Greenside Veterinary Practice is a pioneering centre devoted to veterinary regenerative medicine (RM) and rehabilitation. We accept referrals for detailed musculoskeletal diagnostic tests and for treatment with regenerative and therapies from all over the UK and Europe.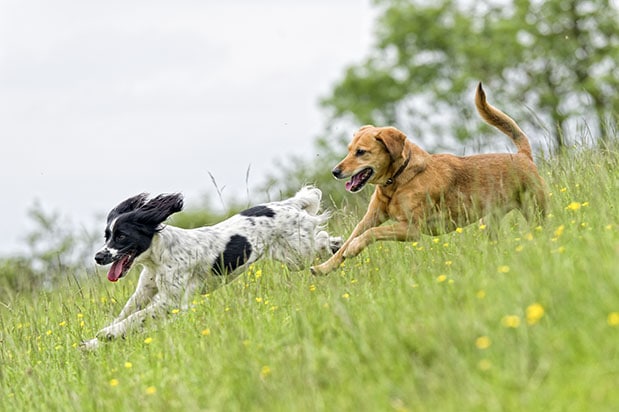 Since the initial trials done in June 2014, we have performed thousands of treatments in dogs and cats with stem cell and regenerative therapies. We currently have treated more animals using biological therapies than anyone else in the UK and have collected objective data on every patient treated and therefore hold the most extensive database of treatment responses in this country.
We have extensive experience and an exceptional success rate in reducing pain and restoring function with our combination therapies.
Publications of our work in scientific journals provides the veterinary community with the evidence needed to support the use of RM and the efficacy and longevity of our treatments. Greenside is leading the way in veterinary regenerative medicine and actively shares knowledge and provides training to promote the use of this novel treatment. We accept referrals from vets for treatment of musculoskeletal disorders, lameness assessments, diagnostic tests including musculoskeletal ultrasound, agility/working dog assessments and Physiotherapy/Hydrotherapy.
Greenside is one of very few centres in the UK to offer diagnostic musculoskeletal ultrasound (MSK US) and we have found this to be an essential component in the holistic approach to lameness and chronic pain and additionally provides optimal targeting of our treatments. The causes of a lameness are usually multifactorial, and MSK US provides the ultimate tool in soft tissue evaluation and enables enhanced diagnosis of musculoskeletal disorders.
Andy Armitage B.Sc. BVM&S MRCVS heads up the regenerative medicine team at Greenside Veterinary Practice and has pioneered new stem cell treatment options for Osteoarthritis, elbow dysplasia/elbow developmental diseases, Lumbo-sacral disease and tendinopathies, and has developed protocols for combination therapies to give the best chance of treatment success.
---
A proven approach to stem cell therapy
Stem cell therapy (SCT) for chronic musculoskeletal conditions has advanced considerably in recent years. Greenside has pioneered new treatment protocols and has published evidence of the efficacy of these treatments provided, and the profound outcomes achieved (1).
Greenside uses autologous mesenchymal stem cells (MSCs) derived from the patient, and these are culture expanded and administered back into the areas of disease. SCT, using these quality-controlled cells, is suitable for treatment of all musculoskeletal conditions and there are no contraindications for their use. As these stem cells are the patient's own tissues (autologous) they are not classed as medicinal products and no licencing is required for their use.
Autologous stem cell therapy carries no risk of rejection or immune reaction, as these are the patient's own cells without foreign genetic material or proteins. Culturing MSCs allows for specific doses of stem cells to be created for bespoke treatments, irrespective of the condition being treated or the size of the dog.